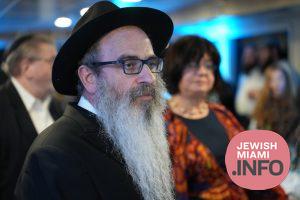 Over 5,000 People At Fourteen Chabad Synagogues in a three mile radius
Over 5,000 people will be attending Chabad Services in fourteen Chabad Synagogues in a three mile radius of Chabad of South Broward Headquarters.
At least three Chabad Minyanim in Aventura, three in Highland Lakes, two in Golden Beach, one on Ocean Drive, one on Hallandale Beach Blvd, one on Harrison St, one on Washington St, one in Three Islands, and one in Golden Isles. 
In addition to the formal Synagogue Services, hundreds of Shofar blowings will take place in private homes, condominiums and even on the streets, so people will have the opportunity to fulfill the main
Mitzvah of Rosh Hashanah at their convenience.
Rabbi Raphael Tennenhaus, starting his 43rd year as the Rebbe's Head Shliach (emissary) in South Broward, is not surprised at the success of Chabad:
"The Lubavitcher Rebbe, Rabbi Menachem M Schneerson, (1902-1994) wanted every Chabad House to be warm and welcoming," he said. "The sheer numbers Chabad attracts today is astounding."  
For more information on Rosh Hashanah, please log on to chabadsouthbroward.com