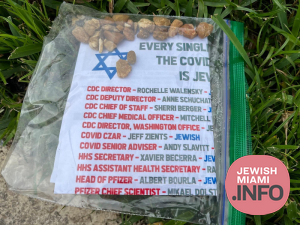 Police Investigate Anti-Semitic Flyers Found Around Miami Beach
by JewishMiami.info
Hundreds of anti-Semitic flyers blaming the Jews for a "Jewish COVID Agenda" and were placed around the Miami Beach area Sunday, prompting the police to launch an investigation.
"Miami Beach PD has been made aware of an antisemitic flyer distributed overnight in residential neighborhoods," the Miami Beach Police Tweeted. "Detectives are actively investigating to determine their origin."
The disturbing flyers, which name many Jewish people with connections to COVID related businesses and government agencies, appears to claim that the Jewish people pulling the strings behind the response to COVID-19, and profiting from it.
Miami Beach Mayor Dan Gelber tweeted out against the flyers. "This morning hundreds of homes in our community found plastic bags outside their homes filled with a hateful anti-Semitic flyer and small pebbles. @MiamiBeachPD
is actively investigating to determine their origin. As a precaution we've increased patrols in our neighborhoods and at religious institutions."
Gelber continued by requesting residents check to see if they have camera footage of the individuals distributing the flyers, saying "If you have a video camera that might have captured relevant images, please save the images. There is no place for this in our community & we will do all we can to make that point clear."
Ironically, the flyers end with a disclaimer that they were placed at random around the community and without malicious intent.
"We have increased patrols in our neighborhoods and also at our religious institutions," the Miami Police said. "There is no place for hate in our community and it will not be tolerated."
If you received one of these flyers, please call MBPD at 305-673-7901.