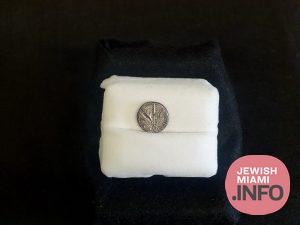 Quarter Shekel Silver Coin From The Bar Kochba Revolt Returned To Israel
Every relic tells a story. Not only about the past, but of its journey to the present as well. This story starts with a rare quarter shekel silver coin, the fourth of its kind known in the world. Dated to the fourth year of the Jewish Great Revolt from 69 CE –– a year before the destruction of the Second Temple in Jerusalem.
The Israel Antiquities Authority spent the next two decades attempting to locate this coin, during which time it passed through illicit antiquities markets in Israel, Jordan and the United Kingdom. In London, false provenance papers were prepared to export the Quarter Shekel from the UK to the US, where it was offered for sale at the Heritage Auction's World Coins & Ancient Coins Signature Auction. Following a transcontinental intelligence operation by the Israel Antiquities Authority (IAA) and the Antiquities Trafficking Unit of the Manhattan District Attorney's office in New York, The coin has finally now returned to Israel.
The Roman Empire had granted local rulers limited permission to mint bronze coins, according to the client rulers' respective degrees of importance and how close they were to the central government.
"… The minting of silver coins by the leaders of the Great Revolt was in fact a declaration of independence by the Jews in the land of Israel, a statement against the mighty empire that stood before them.
At an official and state restitution ceremony held today at the Manhattan District Attorney's office in New York, Israel Antiquities Authority Director Eli Eskosido said "This is a historic achievement for the State of Israel and for the preservation of its cultural heritage assets, as this is only the second time they were ever looted and smuggled out of Israel that they were returned to the state. This is the beginning of a very positive and important trend for the restoration of cultural heritage assets."