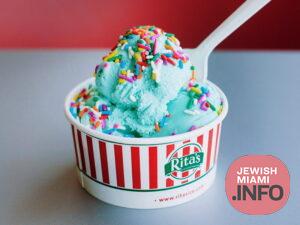 Rita's of Coral Springs Drops Kashrus, Will No Longer be Certified
by JewishMaimi.info
Rita's of Coral Springs, located at 1750 N University Drive, used to be a kosher spot for the local Jewish community to relax and enjoy kosher ice cream. Those days are sadly over.
In an email from Kosher Dairy Miami, they notified the community that they will no longer be certifying the Coral Springs Rita location. They did note that the drop in certification is "not related to any kashrus violation."
It remains to be seen if the Coral Springs Rita's location plans to take on another Kosher certification.
The Coral Springs Rita's location should not be confused with the newly opened and kosher certified Rita's of Deerfield Beach, which is located at 1305 S Military Trail in Deerfield Beach, and remains under KDM certification.
For a complete list of establishments certified by Kosher Miami, please visit their web site, www.koshermiami.org.