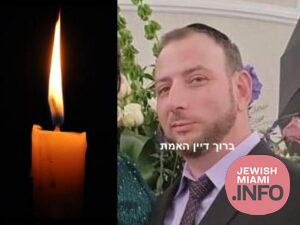 Frum South Florida Man Murdered in Robbery Gone Wrong
by JewishMiami.info
An Orthodox Jewish man from North Miami Beach, Florida was found murdered Sunday in what appears to be a robbery gone wrong.
According to preliminary reports, Hershy Schwartz OBM, 39, was just a week before his wedding when was shot and killed inside his car near the area of North Miami overnight.
A member of a large family from Monsey, he was given over to Chesed, volunteering many hours as part of the Chesed Shel Emes organization.
The Levaya is expected to take place in Monsey, information to be announced.
This story is developing and will be updated as information becomes available.