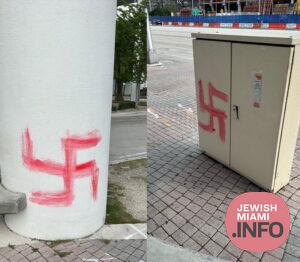 Swastikas Scrawled In Fort Lauderdale Gain Public Attention
by JewishMiami.info
Broward County, with one of the highest concentrations of Holocaust survivors in the world, is also showing anti-Semitic hate.
Two Swastikas were found painted in red on public property in Fort Lauderdale, bringing attention from ani-Semitism awareness groups.
"We cannot imagine how traumatizing it is for any of them to see this hatred emerge once again," Stop Antisemitism, an organization that brings awareness to anti-Semitic attacks wrote on twitter.
The two offending symbols were found on Eisenhower and Hadbordale in Fort Lauderdale.