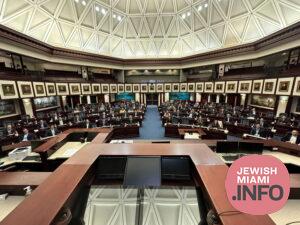 Teach Florida Mission to Tallahassee Sparks Important Conversations About School Choice
More than 100 educators, community leaders, and school choice activists representing 38 Jewish day schools with 11,000 students in Florida traveled to Tallahassee, Fla. on Tuesday, February 21, on a mission to advocate for the expanded Florida school choice legislation, otherwise known as House Bill 1 (HB 1) and Senate Bill 202 (SB 202).
The Senate bill on school choice was heard that same day in the Senate Education committee and passed. Two days later, on February 23, the HB 1 hearing was held in the House PreK-12 Education Appropriations Committee and passed as well. The bills would expand scholarship access to every single K-12 student in the state of Florida.
Teach Florida's mission included a tour of both the Senate and House chambers as well as more than 60 individual meetings with legislators.
Lawmakers in both the Florida House and Senate expressed their commitment to helping all K-12 students access state funding for their education. Representative Jennifer Cannady (R) highlighted how communities of all religions and backgrounds share similar struggles, and that we must stand shoulder to shoulder to create change together.
"I'm very excited about what we accomplished today," said Rabbi Pinny Andrusier, head of Chabad of Southwest Broward and TAG Academy. "Seeing how much our families struggle with tuition, I realize how vital this bill is for the success of Jewish education. We met with several senators and representatives from the House, all of whom agreed that this bill is so important and pledged their support. Hopefully we'll see the bill pass very soon and Jewish education in South Florida will be provided at a new level for families that need it."
Even legislators who voted against the bill because of accountability concerns were extremely supportive of the concept of school choice, which empowers parents to choose the school that best fits their children's needs, and advocates were grateful to be able to have these meaningful conversations.
Teach Florida also advocated for increased Jewish day school security funding, which Representatives Felicia Robinson (D) and Peggy Gosset-Seidman (R) both agreed is extremely important after recent antisemitic incidents in South Florida.
School leaders were thrilled to be part of the mission. Rabbi Shloime Denburg, director of development at Lubavitch Hebrew Academy, praised Teach Florida for making Jewish education a number one priority in Florida. "What that does for families is make sure that every child is able to get the scholarship they need," he said. "It would mean that no child will be placed on a waiting list or left behind because of a disability. It means that every single child will have access to the funds that they deserve."
Speaker Paul Renner greeted the advocates in the Florida House Chamber, reiterating his intention to do everything possible to protect the religious freedom and values of our community. Senator Corey Simon (R), who sponsored the bill, spoke at the committee hearing about why the bill matters.
"Choice is here," he said to the committee. "That's what we're talking about. Public school isn't for every student." Simon also wants to repeal regulations on public schools so they can keep improving and advancing just as much as private schools.
He's right. This bill will make a big difference for non-public school families. For example, thousands of children with unique abilities have been waitlisted because of limited slots, explained Mrs. Baila Gansburg, founder and head of school of South Florida Jewish Academy. This is a massive problem that is currently plaguing Jewish day schools in Florida. The legislation would remove the waitlist and open up slots to 14,000 new students in need.
Senator Jay Collins (R) proudly supports this bill. "I applaud what this bill is doing because I fundamentally believe in empowering parents and empowering choice," he said.
Malka Kownat-Rhodes, director of government programs at Teach Florida, agrees. "This mission was about advocating for parents and showing our trust in them to make the best educational decisions for their children," she said. "It is not about specific institutions, but rather about children."
When it comes down to it, no matter what your political views are, everyone wants to create the best opportunities for our students. Carol Lasek has been an advocate at Teach Florida for many years and joined the February 21 mission as a lay leader. "I was enthused to see all the wisdom, strength, and energy here, especially with the hundred-plus advocates that showed up," she said. "Everyone was busy, yet they took the time to spend an entire day here, and I feel good to be a part of it."
As Maury Litwack, managing director of the Orthodox Union and founder of Teach Coalition, put it, "For our advocates to dedicate an entire day, from six in the morning until late tonight, it has to be for a really important cause. And it is important, because they've all seen the impact of these scholarship programs on their family, friends, and communities, and they want to not only sustain these programs but make sure they grow."
As the mission wound down, participants headed home pledging to do whatever they can to keep the momentum going. "That is precisely what the mission was all about," Litwack added. "It was about the commitment that people are making to Jewish education, and education for all."
Looking ahead, Representative Randy Fine (R) predicts that Florida will continue leading the country in nearly every area. "The miracle of Florida is not just that we have an amazing governor, but we have legislators in the House and Senate that are coming up with transformative ideas and bouncing them off each other. That's what is making Florida the envy of the country. I think we are going to do amazing things in school choice."
Schools that sent representatives include:
Brauser Maimonides Academy
Cheder Chabad
David Posnack Jewish Day School
Hadar High School for Girls
Hebrew Academy of Miami
Katz Hillel Elementary
Katz Yeshiva High School (KYHS)
Lubavitch Educational Center, Inc
Lubavitch Hebrew Academy
Mizrahi Torah Academy
Orlando Torah Academy
South Florida Jewish Academy
The Jewish Academy
Torah Academy of Boca Raton
Yeshiva Elementary School
Yeshiva Toras Chaim Toras Emes
Yotzer Ohr Miami Torah & Art Academy