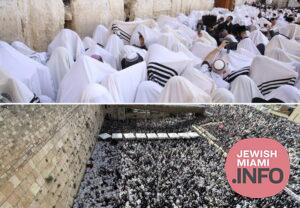 Tens of Thousands Join Kotel Birkas Kohanim on Chol Hamoed
Tens of thousands of Jews participated this morning in a glorious Birkat Kohanim full of prayer for the welfare of the Jewish nation, for the recovery of the wounded, and for the souls of those murdered in this wave of terrorism.
Rabbi Shmuel Rabinowitz, rabbi of the Western Wall and holy sites, said "Birkat Kohanim is a unique and special annual event. But I cannot recall a year when we approached this event with such real concern about potential violence, but at the same time, with the awareness of the tremendous importance of praying the ancient prayer for peace especially at the Western Wall and especially now.
Birkat Kohanim, the Priestly Blessing, ends with the words "and grant you peace" – peace in and out of your home, a suitable blessing every day, and particularly timely nowadays. From the unifying site of the Western Wall, we call and pray for unity at home.
"Establish peace, well-being and blessing, favor, loving-kindness and compassion upon us and upon all of Yisrael, Your people. Bless us, O our Father, all of us together, with the light of Your countenance."
For the unity of the Jewish nation, as one person with one heart.
During all the preparations for the holiday, the Israel Police invested tremendous efforts to ensure that the prayer services take place in the best way possible. Throughout this period, and especially today, the police was a loyal emissary of the Jewish nation.
The Rabbi wishes to thank the police, the Commissioner of the Israel Police, and the Jerusalem District Police Commander and all the security forces who have worked so hard to protect the citizens of the State of Israel and allow for freedom of worship in the Old City, especially during this holiday, with the arrival of tens of thousands of Jews coming to commemorate the pilgrimage and continue coming to Jerusalem and to the Western Wall."