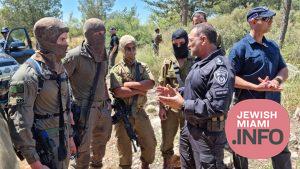 Terrorists Who Murdered Three in Elad Captured
The two terrorists who murdered three Israelis in an axe attack in Elad last week have been arrested after a three-day manhunt, the IDF announced Sunday morning.
The terrorists, who were identified as Jenin residents Assad Yussef Assad Al-Rafa'i, 19, and Sabhi Imad Sabhi Abu Shakir, 20, were arrested during scans of the area surrounding Elad by security forces and were found near a quarry.
The combined pursuit included the use of technological and intelligence gathering means and special units by the police, the Shabak and the IDF.
Read More at israelnationalnews