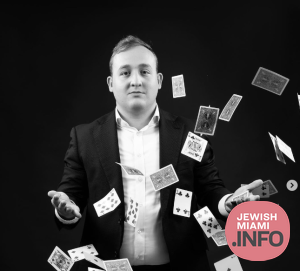 The Jew Project: Shlomo Levinger, A 24-Year-Old Magician and Entertainer
The Jew Project, created by photographer Yisroel Teitelbaum aims to unify the Jewish people through documenting the lives of individuals. To read more on The Jew Project: Click Here
Shlomo is a 24 year old magician from Queens NY. He caught the magic bug at the age of 14, and hasn't looked back since!
While starting off as just a hobby for Shlomo, it only took a few years for him to realize that there's a real market for a non-cheesy magician and most people found the art of sleight-of-hand to be fun and cool!
At just 17 he started performing paid shows for small parties and began his career in the entertainment world. Shlomo quickly started to learn not just the skill of magic, but the art of performing. Posting magic content to social media and through word of mouth, Shlomo's name began to spread, all across the world! Now Shlomo performs all over the country as well as internationally, for companies, events, parties, and celebrities!
Shlomo also has Street Magic videos on his YouTube channel and social media where you can find him performing for people like Ice-T, Donovan Mitchell, Michael Strahan, and a wide range of athletes and celebrities!
Shlomo's magic had be seen on ABC-TV, people.com, Dailymail, yahoo news, and wabc Radio.
Shlomo is based in Queens where he is running a vibrant full time magic career. He plans to amaze and entertain for as long as possible!