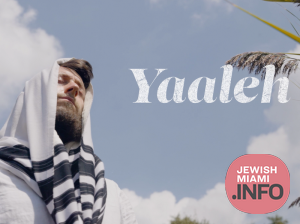 The Rogers Park Band Releases New Music Video To Yom Kippur Melody
Following the release of the Yom Kippur song, "Ki Hinei", Rogers Park Band has announced the release of a music video for "Yaaleh", a Lubavitcher Hassidic melody set to the tefillah of Yom Kippur.
As America's Only Hasidic Folk Band Yosef & Mordy of Rogers Park Band have been called "The Hasidic version of Simon and Garfunkel" with their harmonic anomalies and Hasidic twists.
"Yaaleh" which was released on the eve of Rosh Hashana, is the duo's rendition of ancient hasidic melody that focuses less on repentance and more on returning home.
With their beautiful voices and a harp, their video takes you through a guided meditation on what Yom Kippur and repentance is really about.
This project is one of many where Rogers park takes hassidic tunes and melodies and makes them "hip and cool" see their bring yiddish back project.
"Teshuva, often translated as repentance, is more accurately translated as Return" says Yosef Peysin, vocalist and guitarist for Rogers Park. "Our focus on this opening prayer of Maariv on Yom Kippur is that our petitions and prayers find a home over the entire Yom Kippur – from evening, to morning, to nightfall. Yom Kippur is about returning to our very self which at our core is our soul – an actual part of G-d.".
Attached to the music video is a running text meditation based on the writings of Tzvi Freeman.