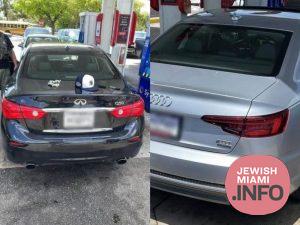 Three Teens Arrested In Car Theft Ring
Three stolen cars are being returned to their rightful owners thanks to solid investigative work done by the Broward Sheriff's Office Burglary Apprehension Team (B.A.T.) during a very busy day last Thursday, April 14.
The recoveries are the result of an investigation that began after a 2021 Lexus was stolen from Parkland overnight Wednesday, April 13. The investigation led detectives to Lauderhill where they located the stolen vehicle as it was driving, along with two other vehicles, also believed to be stolen.
Detectives began surveillance on the vehicles. When the driver of the Lexus veered away from the trio of cars, detectives arrested the 13-year-old driver of the vehicle without incident. A short time later, detectives conducted a traffic stop at a gas station and arrested the 16-year-old driver of an Audi stolen earlier on Thursday, April 14, from Fort Lauderdale and a 17-year-old driver of an Infiniti stolen earlier in the week from Sunrise. The investigation also revealed that the 17-year-old attempted to conceal a stolen firearm inside the business. The Fort Lauderdale Police Rapid Offender Control Unit assisted.
Each suspect is charged with grand theft of a motor vehicle. The 17-year-old is also charged with grand theft of a firearm, carrying a concealed firearm and tampering with evidence. The suspects were taken to the Juvenile Assessment Center for processing.
The B.A.T. Unit reminds car owners to follow these simple steps to protect themselves and their vehicles:
• Don't leave your car doors unlocked
• Don't leave your car keys or fobs in your car
• Don't leave valuables in your car
• Don't leave your garage door opener in your car