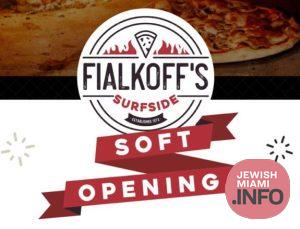 Thursday: Fialkoff's Soft Opening in Surfside
by JewishMiami.info
The famed Fialkoff's Pizza has arrived in South Florida.
Harding Ave in Surfside, which is already bursting with kosher establishments, will now host another iconic location.
Fialkoff's Pizza became a famous name in the Kosher food industry with its Monticello location in New York, where people would line up to grab a pie or six.
Now, residents, tourists, and enthusiasts can enjoy Fialkoff's in Surfside at 9463 Harding Ave with an expanded breakfast menu coming after Pesach.
The location is set for a soft launch tomorrow, Thursday, March 31st.