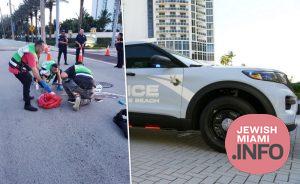 TRAGEDY: Jewish Woman Struck and Killed in Sunny Isles Beach
by JewishMiami.info
A Jewish woman has sadly passed away after being struck while crossing Collins Ave in Sunny Isles Beach Monday.
According to reports, Sunny Isles Beach Police and Miami-Dade Fire Rescue units responded to the scene in the area of 159th Street and Collins Avenue just before 4:30pm for reports that a person had been struck by a vehicle.
The woman was treated by Miami-Dade Fire Rescue but was pronounced deceased soon after.
The street was shut down for hours as an investigation was made.
Chesed Shel Emes was on scene providing kovod Hames.
Boruch Dayan Hoemes
Update: The deceased has been identified as 54-year-old Margot Solomon OBM, a resident of Miami.