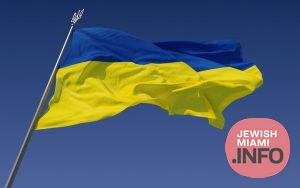 (UPDATED 9:18PM) Russian Forces Bogged Down in Northern Ukraine, Sanctions Hitting Hard In Russia, Both Sides Sit Down For Second Round of Peace Talks
by JewishMiami.info
Russian President Putin announced the invasion of Ukraine late Wednesday night, and immediately followed it with action. The following is a summary of incidents, numbers and breaking news on the war.
This article will be updated throughout the day as information becomes available.
9:18pm: The Zaporizhzhia nuclear power plant is presently the sight of a battle. The following is an update from Sen. Marco Rubio:
Russian soldiers have breached the main building of the #Zaporizhzhia nuke plant in #Ukraine. Active firefight is going on inside a facility that is already on fire and controls 6 reactors.
Firefighters unable to fight the fire because they are in the middle of a combat zone. Like most nuke plants the one in #Ukraine under attack is built to withstand a direct hit from an airplane crash The problem is a loss of power or a shell draining the pools used to store spent fuel.
If that fuel isn't cooled it can melt & release large amounts of radioactivity. Second Ukraine official just now says reactor was "hit" & is inactive with fuel inside but that its the admin building which is on fire. He had received no information about elevated radiation levels. Says meltdown unlikely but leak is possible. No other verified info available
3:12pm: Russian and Ukrainian negotiators have agreed on the creation of humanitarian corridors for the evacuation of civilians from combat areas in Ukraine, Ukrainian presidential advisor Mykhailo Podolyak said Thursday.
1:58pm: As per Sen. Marco Rubio "The chances of #Belarus joining in the invasion of #Ukraine are very high and (in my opinion) near certain."
1:55pm: Ukraine and Russia agreed to hold a third round of talks soon, as Ukraine did not receive the results it had counted on.
12:12pm: Germany and Norway break from tradition and export lethal arms to Ukraine.
11:26am: Ukrainian official says ceasefire talks with Russia started.
11:00am: General Update:
Major General Andrei Sukhovetsky, deputy commander of the 41st Combined Arms Army of the Central Military District, has been killed in the war in Ukraine, according to Newsweek, citing Russian news sources.
Ukraine Says 34 Civilians Killed in Kharkiv Region bombardments
No Water or Power in Mariupol as Russian Soldiers besiege the city
According to the hacking collective Anonymous, information warning Ukraine of an assassination plot against President Volodymyr Zelenskiy was leaked from the Russian Federal Security Service.
Music streaming giant Spotify has become the latest company to take significant steps against Russia, closing its Russia-based office on Wednesday and removing Russian state-sponsored content from its service.
The US has delivered hundreds of Stinger anti-aircraft missiles to Ukraine for the first time over the last few days, including over 200 on Monday, a US official said.
The United Nations revealed on Wednesday that the death toll of civilians in the ongoing war between Ukraine and Russia is estimated at more than 2,000.
The Un also claimed that around 1 Million refugees have also fled Ukraine.
10:00pm: The following is an analysis by Sen. Marco Rubio on the war:
After being unable to make progress for close to 72 hours #Putin's massive military column stuck 15 miles outside #Kyiv is beginning to show a growing decline in readiness. Growing signs the people of #Russia are becoming increasingly aware of the scale & scope of the #UkraineRussianWar. If so this would put #Putin in danger of a two front conflict. He would move quickly to impose restrictions aimed at preventing large protests & unrest.
8:18pm: Russian businessman Alexander Konanykhin has put a million dollar reward for Putin's head over the invasion of Ukraine.
8:17pm: One of the world's largest software producers, Oracle, has suspended all operations in Russia.
6:18pm: The Russian Federation Council is set to hold an unscheduled meeting on Friday, leading to widespread speculation in Moscow that the country might impose martial law.
6:17pm: The International Criminal Court formally opens investigation into possible Russian war crimes in Ukraine.
1:17pm: A Russian soldier had reportedly surrendered and Ukrainians provided him with food and supplies and let him video call his mother. The soldier literally bursts into tears while talking to his family.
10:00am: General Update:
Overnight, the city of Kherson, the biggest city so far to fall to Russian forces, was completely taken over by Russia.
Bombardment of Ukrainian cities continued, leaving multiple dead, hundreds wounded, and extensive infrastructure damage.
The 40 miles-long Russian military convoy on its way to Kyiv has remain bogged down and made little progress towards the capital.
As per the Ukrainian government, nearly 6,000 Russian soldiers have lost their lives in the first six days of war.
The US Justice Department will look to confiscate yachts, luxury apartments and private jets of wealthy Russians with ties to Putin over the war.
More than 450,000 people have fled from Ukraine to Poland, and a further 113,000 to Romania. The numbers of people escaping to Moldova has yet to be announced.
To see previous updates: Click Here