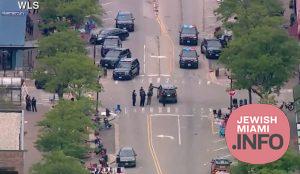 UPDATED 8:00pm: Mass Shooting at 4th of July Parade in Highland Park, Illinois Leaves Multiple Dead
Just one block away from a Tefillin stand staffed by Lubavitch Bochurim at a 4th of July Parade, a mass shooting took place, leaving multiple people dead.
"My son is at the Highland Park, IL July 4th parade running a tefillin stand when an active shooter opened fire. He just called to say that he's safe, BH," Rabbi Eliezer Zalmanov of Chabad of NW Indiana posted on Twitter. "Apparently he was a block away from the shooting and as soon as it started he safely evacuated to the Chabad House."
The shooting took place around 10:15am on 2nd Street and Central Ave in Highland Park.
The Parade has ben shut down as police officers patrol the area and continue to search for the shooter. At present, little information is being released to the public.
Update 8:00pm: Suspect in Highland Park mass shooting taken into custody.
Update 6:42pm: Police identify person of interest in Highland Park parade shooting as Robert "Bobby" E Crimo, III. 22 years old. Believed to be driving a 2010 Silver Honda Fit, Illinois license plate DM80653.
Update 6:08pm: The ZAKA organization reported that an elderly Jewish Man was among the dead in the mass shooting at a Fourth of July parade in Highland Park, Illinois Monday.
Update 3:34pm: According to Israel's Foreign Ministry, there were Jewish casualties amoung those killed in the mass shooting.
Update 3:30pm: According to Rabbi Motti Seligson of Chabad.org, four rabbinical students from an area yeshiva took shelter with dozens of others in Central Avenue Synagogue (Chabad). Volunteering with Chabad in Highland Park for the parade (they just got back from NYC where they were for the Rebbe's yahrtzeit).
Update: Police say that six people were killed and two dozen injured in the shooting.
Update: Law enforcement agencies are still searching for the suspect who is identified as a white 18-20 years old male with longer black hair, a small build, and wearing a white or blue t-shirt.