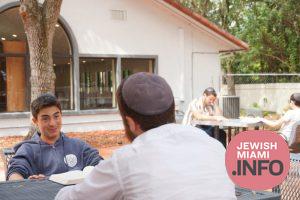 VIP Bochurim Excited to Celebrate 13th Summer on Florida Campus
Registration is now open for VIP Bochurim's legendary summer program. Celebrating their Bar Mitzvah year, VIP Bochurim will once again be hosted on the beautiful 6.5 acre lakefront campus of Chabad SWB in Cooper City, Florida, also home to the new TAG Academy.
Last year, under the leadership of Rabbis Pinny Andrusier, Aizik Chanin, Zalmy Raksin, and Levi Blizinsky, 68 bochurim enjoyed a summer of a lifetime. It was the ultimate summer experience, full of outdoor adventures and tremendous personal and spiritual growth. (For a glimpse into the summer, view this video.)
Following the great success of VIP, the rabbis joined together to open TAG Academy, an individualized yeshiva where the motto for each child is, "TAG: you're it." Focusing on each student's individual interests, needs, and strengths. TAG's novel approach to education has helped the 30 bochurim enrolled, thrive, despite their prior struggles in previous learning environments.
One mother writes, "We have no words to express our gratitude and appreciation for VIP and really for every day at TAG. Every day he's made to feel like a million bucks. Every day he feels comfortable, safe, and accepted. Truly incredible!"
In celebration of its 13th Bar Mitzvah year, the VIP TAG team is promising to offer the most thrilling and spiritual summer yet. With many new and exciting innovative activities and exhilarating trips in store, the five week summer program is guaranteed to keep the bochurim on their toes, while instilling the best of chassidish values.
VIP will have two divisions. The senior division will be for Bochurim 17-19 and the junior division, 14-16. The exciting summer program includes hands-on Torah learning, engaging activities, martial arts, organized sports, and breathtaking trips.
The beautiful Chabad campus recently underwent one million dollars in renovations which will surely enhance the summer experience for all participants. New developments include upgrading the spacious dorm rooms with private bathrooms and AC units and adding a state of the art work out gym, game room, full court basketball court, music and creative arts studio, swimming pool, and additional kayaks and fishing rods to enjoy on the on site lake.
"We are ecstatic to offer what promises to be another incredible summer at VIP. With the addition of the new Chabad campus and TAG Academy we are sure this will be an unforgettable summer for each bochur." Says Rabbi Pinny Andrusier, "In addition to providing a one of a kind fun summer and working with each teen on his own personal development and growth in Torah, Avodah, and Gemilus Chassadim (TAG) we are going to demonstrate to each Bochur his special significance and that they are a VIP Bochur!"
The program will begin Tuesday, July 12th, 13 Tamuz and end Tuesday, August 16th, 19 Av. To apply for the summer program or TAG Academy for the 2022 – 2023 school year click here. Registration is limited and is already filling up fast! You do not want to miss out! Questions can be directed to admin@tagacademy.org.
Apply Today!
Stay tuned for our upcoming Charidy Campaign and please contribute generously – https://charidy.com/tagacademy
To see more pictures from previous summers please check out VIPBochurim on Facebook and Instagram.