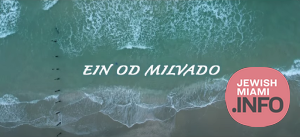 Yosef Zidell and Mikey Mocton Release Music Video To Give Strength To Those Battling For Their Yiddishkeit
"Ein Od Milvado" Is a Song That Yosef Zidell wrote about connecting to Hashem even when you are at your lowest point. People, at these difficult times, struggle a lot with anxiety and this song is bringing out a message that even when you are at your lowest, you turn to Hashem and he's there for you to help guide you to the right path.
After the great success of the famous Waterbury cover "Only Love" Yosef Zidell has now released his very first single collaborating with the DJ/Singer and Producer – Mikey Mocton who has released many hits to the Jewish world.