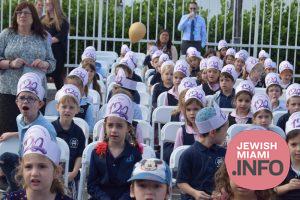 Yud Aleph Nissan Rally at Lubavitch Hebrew Academy in Margate, FL
Today at LHA in South Florida, school is in session! What better way to celebrate the Rebbe's birthday than to make sure we continue Torah learning.
The school's Yud Aleph Nissan rally began Monday morning with Rabbi Yossie Denburg, Head Shliach to Coral Springs and Dean of the Lubavitch Hebrew Academy, sharing a story with over 450 students about the present he received from the Rebbe 38 years ago. The Tanya Rabbi Denburg received from the Rebbe is from the most beloved items he owns and treasures it every day. Now, he said, we have the opportunity to give a gift back to the Rebbe.
Last year, LHA set the goal of learning 7,000 lines of Tanya Bal Peh, which they did. This year a goal of 10,000 lines of Tanya was set, and the school smashed their goal. During the rally, together with Morah Margie, Program Director & Tzivos Hashem Base Commander, the school opened their gift to the Rebbe. Together, the students learned a WHOOPING 15,039 lines of Tanya Bal Peh!
The Rally continued with Rabbi Mendy Engel, Shliach to Tamarac, sharing an inspirational story with the students. Following that, the 12 pesukim were said, finished off with an Epic Raffle and Icee truck for all the students who helped contribute lines towards the "Matanah".