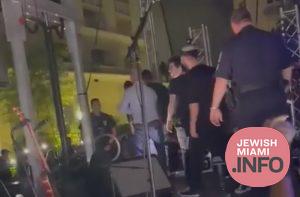 After Mid-Concert Interruption, Ishai Ribo Offers Attendees Free Tickets
by JewishMiami.info
Ishai Ribo has published a letter to the attendees of his interrupted concert Wednesday night, offering free tickets to future concerts as a way of repaying for the lost concert.
"As a token of our appreciation for your understanding and support, we would like to offer each and every one of you the opportunity to participate in a future event and experience Yishai Ribo in concert as it should be at any concert internationally for your choosing," the letter reads.
As previously reported on JewishMiami.info, midway through the concert in Aventura, police showed up and "pulled the plug" according to social media posts from the event.
According to those at the event, the sudden end came without warning with officers clearing the stage and sending everyone on their way.
Unconfirmed reports say that the issue surrounded permitting, which had been granted through only 9:45pm. With the concert only beginning at 9:00pm, it obviously continued far after, causing many to call in with complaints.
Ishai Ribo is considered a leading Jewish and Israeli singer liked in both the Chareidi and non Chareidi world. He is also rumored to be the highest paid Jewish/Israeli singer.