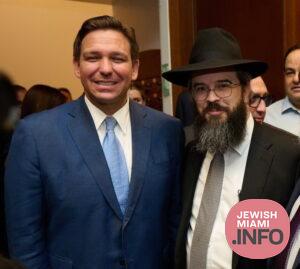 Agudath Israel Welcomes Florida Proposals to Combat Antisemitism
Agudath Israel of Florida welcomes proposed measures in Florida to promote security and combat antisemitism.
This week, Governor Ron DeSantis released his proposed Florida state budget. The bill would provide over $18.2 million in funding for Jewish schools, museums, and memorials across the state. This includes a record $5 million in security funding for Jewish day schools.
Also, this week, State Representative Mike Caruso introduced bipartisan legislation to combat antisemitism. HB 269 would expand the definition of hate crimes and increase the penalties for such actions. The new definitions include the distribution of flyers, stalking, defacing graves and certain buildings, or projecting images on someone else's property — if the act shows ethnic or religious animus.
This measure is in response to antisemitic messages and swastikas defacing buildings in Jacksonville and West Palm Beach as well as multiple instances of antisemitic materials being left outside of homes in Florida.
"The state of Florida is taking the threat of rising antisemitism seriously," said Rabbi Moshe Matz, executive director of Agudath Israel of Florida. "The recent public displays of antisemitism and distribution of antisemitic materials is deeply concerning to our community. We are heartened to see that Florida is taking action to respond. We are grateful to Governor Ron DeSantis who continues to provide strong support to the Jewish community in Florida, and to Representative Mike Caruso whose proposed legislation shows zero tolerance for antisemitism."