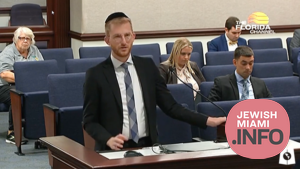 Agudath Israel's Florida Office Testifies on Pending Hate Crime Legislation
Rabbi Avrohom Luban, associate director of Agudath Israel's Florida office testified before the Florida Senate Criminal Justice Committee in support of a bill which would expand the definition of hate crimes and increase the penalties for such actions. The new legislation would include the distribution of flyers, stalking, defacing graves and certain buildings, and projecting images on someone else's property as hate crimes if the act shows ethnic or religious animus.
This bill was introduced following the recent rise in antisemitic attacks throughout the United States, especially in Florida, where antisemitism is up by seventy percent over the last two years.
In just the past few months, there have been "Kill Jews" messages spray painted in Weston, antisemitic messages projected on TIAA Bank Field's video-board during a sports game, and antisemitic signs left on Boca Raton neighborhoods' yards. Antisemitic messages, including a swastika, were projected onto the AT&T building in West Palm Beach, and hate flyers were distributed at Florida Atlantic University Campus and West Boca Raton residences.
Most alarming, perhaps, was the recent demonstration of hate outside of Chabad of South Orlando. Antisemites held hate signs and shouted at people for several hours. They can be seen on video shouting, "Heil Hitler," as well as mocking Jewish passersby and asking, "How many of you can fit in a grill?"
Speaking to the legislators, Rabbi Luban explained the impact this hate has on the community and stressed its negative effect on children. "These are all real stories that are happening, and real concerns that we are faced with," he said. "These and similar antisemitic incidents are increasing at unprecedented rate. We need to do something about it – we need something to change."
We urge all Floridians to please take a minute of your time and sign a letter that will be sent to your state legislators, urging them to support the bill as well. Click here to take action.