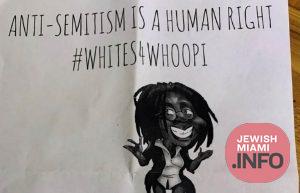 Antisemitic Flyers Spread In Fort Myers, Mimic Those Found in Miami Beach Last Month
by JewishMiami.info
Residents of Fort Myers, Florida awake to a nasty surprise Friday morning when they found antisemitic flyers tossed on their front lawns.
Multiple reports around McGregor Blvd claimed the vile flyers had been stuffed into bags and weighted with rice, a method used in another incident in South Florida last month.
The flyers distributed overnight Thursday are headlined "Anti-semitism is a human right", with depictions of Whoopie Goldberg and Jew. The flyer also hosted other slogans, such as "Let's Go Brandon" and "#Whites4Whoopie".
The Jewish and non-Jewish residents of Fort Myers were appalled and concerned over the flyers, Rabbi Yitzchok Minkowitz said. "I got so many phone calls about it. People are concerned."
The methods that were used last night mimic ones used last month in Miami Beach, where anti-Semitic flyers blaming the Jews for a "Jewish COVID Agenda" were placed around the area. The incident hen prompted the police to launch an investigation.
In both cases, the flyers ironically ended with a disclaimer claiming that the flyers were placed at random around the community and without malicious intent.