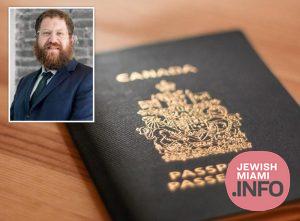 As A Canadian, What Are My Options To Legally Stay In The United States?
The Trade NAFTA (TN) Professional Visa
by Yossel Balisok, Esq.
As an immigration attorney, I have been contacted by many Canadian citizens who are concerned about being able to stay in the United States, or to be able to move freely between the United States and Canada. My clients have heard horror stories from friends who, after travelling back and forth between the U.S. and Canada for a few years on the 90-day allowance under the ESTA Visa Waiver program, encountered an over-zealous border patrol officer and were suddenly barred from reentry for three years, and they are understandably worried about this happening to them.
As with any government program, I realize that navigating the immigration system is complicated, and I am offering this article (and my services) to help simplify one method by which you can obtain legal status in the United States, the Trade NAFTA Professional Visa ("TN Visa")
What is a TN Visa?
The TN Visa permits qualified Canadian (and Mexican) professionals to temporarily stay in the United States. The TN Visa was created as part of the United States' special economic and trade relationship under the North American Free Trade Agreement (NAFTA).
How Long Can I Stay in the United States on a TN Visa?
A TN Visa allows you to stay in the United States initially for 3 years, after which time you can extend the period indefinitely.
How Do I Qualify?
You need to be a citizen of Canada (or Mexico).
You need to be qualified to practice a profession that is included in the regulations. The regulations list 60 eligible professions, including teachers, computer systems analysts, nutritionists, psychologists, graphic designers, lawyers, social workers, occupational therapists, physical therapists, accountants and pharmacists. You can find a complete list of eligible professions here.
You need to have a job lined up with a U.S. employer
How Do I Apply?
If you are a Canadian citizen, you can obtain your TN Visa by presenting the requisite documents to the U.S. Customs and Border Protection (CBP) when you enter the country, including a letter from your prospective employer.
The only thing you need to do is to find an employer to employ you and then call us. We will contact your employer and work with them directly to help them provide the requisite documentation so they don't have to deal with any of the leg-work.
What is the Processing Time?
If you apply at a port of entry, your processing time may only take a few hours. If you apply by mail, you can expect it to take about six months, or you can opt to pay an additional fee for premium processing, expedite the processing time to about 15 business days.
What Does My Prospective Employer Need to Know?
All your employer needs to do is to provide a job description, hours to be worked and the length of the employment contract. All other paperwork can be taken care of by us.
The process of entering on a TN Visa takes only about a week or two.
Your employer can treat you as if you are a citizen. Your TN Visa status will make no difference to them in terms of how they pay you, their taxes, etc.
Once your employer completes the initial paperwork, their work for this is done. There will be no follow-up.
How is the TN Visa Different from the H-1B Visa?
While the H-1B Visa is an option for non-citizens to obtain work authorization in the U.S., the TN Visa is much quicker to obtain, with much less bureaucracy and paperwork, and is also much cheaper. All you need to do is to show up at the CBP with the correct documentation in hand, and your TN Visa can be processed immediately.
Additionally, while the H-1B Visa can only be extended after the initial period of three years to a maximum of six years, the TN Visa can be extended an indefinite number of times.
Finally, while there are a limited number of H-1B Visas which will be issued each year, causing many applicants not to be granted, the TN Visa will be granted to anyone who meets the eligibility criteria.
What else do I Need to Know?
Can my family come with me if I enter on a TN Visa?
If I am not a citizen of Canada, but I am a permanent resident, can I enter on a TN Visa?
Can obtaining a TN Visa help me transition to permanent residence in the United States (green card)?
How is a TN Visa different from a Religious Worker Visa (R-1)?
If I leave my job, how long do I have to find another employer in order to keep my TN Visa?
What if I want to change employers while on a TN Visa?
Can I study in the U.S. if I hold a TN Visa?
Do I need to work a certain number of hours or make a minimum income to be eligible?
Can I get a TN Visa without a degree?
Did the U.S.-Mexico-Canada Agreement (USMCA) affect the TN Visa?
For answers to these questions, please call 718-928-9607 or visit our Crown Heights office for a FREE consultation.
Yossel Balisok, Esq.
Balisok & Kaufman, PLLC
251 Troy Avenue, between Lincoln Pl. and St. Johns Pl.