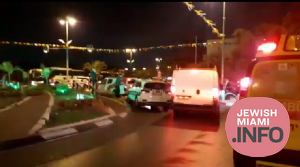 At Least Three Killed in Elad Terror Attack
At least three people have been killed and several others wounded in a terrorist attack in the haredi city of Elad Thursday night.
Several Magen David Adom (MDA)and United Hatzalah ambulances were called to the scene of the incident. The MDA released a statement that four of the wounded are in critical condition while two others are in serious condition.
According to preliminary reports, the terrorist attacked people with an axe on a city street before moving to a nearby park to continue his killing spree. Police spokesperson Eli Levy said that there were reportedly two attackers, one armed with an axe, and one with a knife.
Read More at israelnationalnews