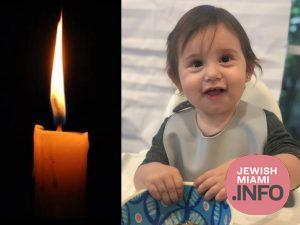 BDE: Bella Shagalov, 1 Year-Old, OBM
With great sadness we report the sudden and untimely passing of Bella Shagalov OBM, the 1-year-old daughter of Duddy and Racheli Shagalov. She passed away on Sunday, the 3rd of Av, 5782.
Bella is survived by her parents and siblings, who live in Inverrary, FL.
She is also survived by her grandparents Rabbi Sholom Menachem Mendel and Devora Shagalov and Rabbi Gershon and Mazal Fried.
The Levaya will take place Monday, 7:30pm at South Florida Jewish 6081 S Congress Ave, Lake Worth, FL 33462.
Shiva information to be announced.
Boruch Dayan Hoemes