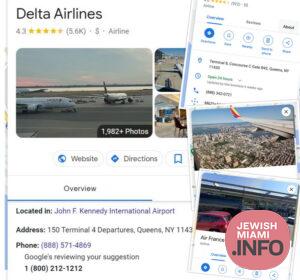 BREAKING: Major Scam Uncovered After Scammers Change Online Customer Service Numbers For Major Airlines
Hi, how can we scam you?
A major scam was uncovered Sunday by a Crown Heights resident after a Delta flight he was booked on was canceled, and he looked on Google for the Customer Service number.
"My @delta flight got canceled from JFK. The customer service line was huge, so I google a Delta JFK phone number. The number was 1888-571-4869 Thinking I reached Delta, I started telling them about getting me on a new flight," Crown Heights resident and photographer Shmuly Evers posted on Twitter. "After a minute the line broke up, but they called me back… from the number +33-4-56-38-67-82 (French number that came up as DTI Publishing in Caller ID). First Red flag. He had a very strong Indian Accent (Red Flag), and was overly eager to help me."
From there the "customer service representative" convonced Evers to hand over his confirmation number and name, and was able to look up his trip information on the Delta website. The scammer found an alternative flight from Newark, leaving later in the evening, but needed Evers to "confirm".
"He texted me a screenshot of a flight detail from Newark, and asked me to confirm via SMS (red flag) number 845-284-1309. I thought about it and texted him back to go ahead, still thinking I am talking to Delta…" Evers said. "He then asked me to call him, he said he has to cancel my original reservation, and I have to pay for the new one… this is when I asked him, where he was located, he said Rochester NY, when asking him where that is located, he said 2 hours South of NYC…"
That was the final straw for Evers, who now convinced that this was a scam, told the scammer "I have heard too many scams lately I do not feel comfortable to give him any payment information over the phone."
With just a cursory search, Evers realized that the scammers had in fact been able to swap the customer service numbers listed for multiple major airlines, including Delta, American Airlines, Southwest Airlines, and Air France.
"Google has dropped the ball," Evers told CrownHeights.info, "allowing anyone one to create entries."
A man of action, Evers immediately put in requests by Google to replace the scammers numbers with their correct ones, but the larger issue of securing the numbers has to be handled by Google.
At present, how many people have been affected by the scam is not yet known, with the weekend airline chaos across the country leaving thousands cancelled or delayed, and potentially allowing the scammers to target these people.