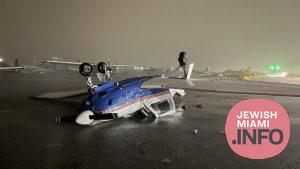 Broward County Update For Hurricane Ian
Hurricane Ian is currently a strong Category 4 storm, just shy of a Category 5. Broward County remains under a Tropical Storm Warning, Flood Watch, and Tornado Watch. Residents and visitors are urged to remain vigilant as we may experience strong wind gusts and heavy rain to continue through tomorrow.
Even though Broward County is not in the forecast cone, some damage has been reported in our area. Fortunately, no injuries have been reported.
Here's the latest as of 11AM Wednesday:
At Broward County's North Perry Airport, approximately 30 aircraft and a facility were damaged by a tornado that hit at 7:30 last night. The airport is closed until further notice as damaged areas are assessed and repaired.
Port Everglades experienced gusts of up to 60 mph with no damage. They remain at condition "Yankee" which means marine operations are discontinued. Fuel trucks are moving with no anticipated shortages of jet, diesel, and regular fuel coming into the Port.
County Public Works crews are busy monitoring and repairing damages.
There are downed trees throughout the County; crews are working non-stop to remove debris throughout the day. We encourage residents to stay inside today, but if you are driving, please proceed with caution.
A handful of traffic signals were damaged and are being worked on. Some traffic lights are on flashing mode. Remember that intersections with flashing red lights or no lights should be treated as a four-way stop.
Some County Government offices are closed today with some major exceptions:
Fort Lauderdale-Hollywood International Airport remains open and operational today. There are reports of some cancellations and delays, so please call your airline if you're planning to travel.
Broward County Transit is operating on a normal schedule today, including Paratransit. Most Community Shuttles, operated in partnership with municipalities are also operating, with the exception of shuttles in Dania Beach, Deerfield Beach, Hillsboro Beach, North Lauderdale and Pembroke Pines.
Animal Care has staff at the facility to care for the shelter animals and handle emergency intakes.
The 3-1-1 call center is open until 5PM today.
Broward County Courts and the Broward County Property Appraiser's offices are closed Wednesday and Thursday. The Broward Supervisor of Elections office is closed Wednesday.
Several Broward County Parks closed earlier this week due to flooding. Park staff is completing damage assessments and all parks that do not require repairs are expected to open on Thursday. Libraries are also closed today.
We anticipate County operations will resume normal operations on Thursday at 6AM.