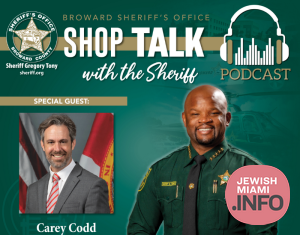 Broward Sheriff Looks Back at 2021 With Podcast
Although we've flipped the calendar to 2022, it's important to look back at 2021 and see the challenges confronted and the opportunities fulfilled. On the latest episode of the Shop Talk with the Sheriff podcast, Broward Sheriff Gregory Tony reflects on the accomplishments and challenges of 2021 and looks ahead to BSO initiatives in 2022. 
During a wide-ranging discussion with BSO's Senior Public Information Officer Carey Codd, Sheriff Tony addresses a number of topics, including agency initiatives such as L.E.A.D. camp, the Real Time Crime Center Public Private Partnership, accomplishments in the Department of Law Enforcement's Aviation Unit, mental health awareness for first responders and the impact of COVID-19 on BSO. 
Sheriff Tony also gave insight into his motto, "Service Equals Reward."
If you are interested in submitting questions or topics to discuss on an episode, please send a direct message via Facebook (@BrowardSheriffsOffice), Twitter (@browardsheriff), Instagram (@BrowardSheriffsOffice) or email the questions to AskTheSheriff@sheriff.org.