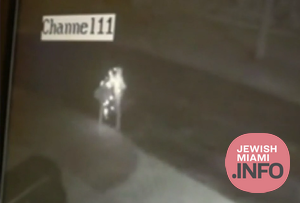 Chabad Shliach's Home Targeted With Fireworks In Miami Gardens
by JewishMiami.info
"I get outside. I see the mailbox disappear."
Rabbi Sholem Kleinman, a Chabad Shliach in Miami Gardens, came outside Tuesday evening after hearing two loud bangs, only to discover that his mailbox had been incinerated.
In an interview with Local 10 News, Rabbi Kleinman said "I thought, in the beginning, it got hit by a car, but when I get close, it's all smashed in the middle of the street."
Surveillance video from the incident tells the full story, showing as a young child lights something and tosses it into the mailbox before fleeing around 8:00pm Tuesday.
The explosion, which involved lots of sparks and two explosions, appeared to have been caused by a firework.
The Shliach's home, which doubles as a Chabad Center, appears to have been targeted at least once before with fireworks, possibly by the same children.
The police who are investigating the incident say that it does not appear to be a hate crime, and the hope among all is that it is simply a holiday prank.