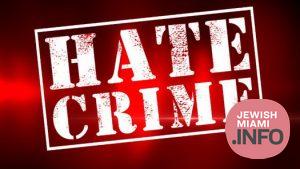 Chabad Rabbi's Home Vandalized in Florida, Two Teens Arrested
by JewishMiami.info
The home of a Chabad Rabbi in Bonita Springs, Florida was vandalized last week leading to the arrest of two teens.
The home of Chabad Shliach Rabbi Mendy Greenberg of the Chabad of Bonita Springs was targeted by the teens who destroyed a mailbox, smashed a car window and spraypainted the sidewalk with the term "Jew's," according to reports.
The two teens, aged 17 and 14, where charged with a felony due to a hate crime, according to Lee County Sheriff Carmine Marceno.
Marceno, who called this an isolated incident, said "Contrary to what Whoopi Goldberg believes, the Holocaust was driven by hatred toward the race of people and sadly, hatred toward the Jewish people still exists today."
At a Press Conference, Rabbi Greenberg said "For the Jewish community, my message is there is nothing to be fearful for," Greenberg said. "We are here to stay, we are not going anywhere. We are proud of who we are."