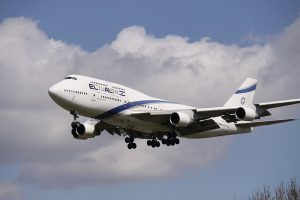 Chaim V'Chessed: Current Requirements for Entering Israel
Updated as of May 1st, 2022
Who May Enter Israel
Under the current rules, anyone may enter Israel, regardless of citizenship or vaccination/recovery status.
Process for Entering Israel:
All travelers entering Israel must fill out this Entry Form within 48 hours of their scheduled departure time. See here for a clear, instructive tutorial, prepared by Amudim, which can assist you in submitting the form.
Instructions for filling out the Form:

If you meet vaccination/recovery requirements for Israel and you are recognized by the Ministry of Health, choose "vaccinated/recovered in Israel".
If you meet vaccination/recovery requirements for Israel but you are not recognized by the Ministry of Health, choose "vaccinated/recovered abroad". While completing the health declaration, you will need to upload your proof of vaccination in PDF format. If your documentation is not QR coded, you will see a note in red that the Ministry of Health will verify your details. Ignore this message and continue filling out the form.
If you are NOT vaccinated/recovered, choose "other" when asked to enter your vaccination/recovery status. You will be asked to confirm that if you test positive you will quarantine in a hotel at your own expense. This is not expected to be reinforced, but it must be checked off to proceed.

Upon completion of the form, you will receive an email stating that you are permitted to board your flight, with a תצהיר כניסה לישראל (Approval to Board Flight) and a Green Pass (if eligible) attached. This is also available for download on the completion page.
Bring to the airport: (All documentation may be paper or digital.)

Tourists of all ages must present a negative PCR test taken within 72 hours of departure. This must be taken at an official lab and documentation in English must be presented with your passport number on it. Antigen tests are no longer accepted.
Israeli citizens, toshavei keva, toshavei arai, and all holders of A-class visas do not need to test before departure to meet Israel's entry requirements. This includes all Student Visa holders and their dependents with valid visas in their passports. If you are transferring through another country, you may need to meet their entry requirements- please reach out to the airline for clarity. For example, Germany does require a pre-flight test for those who cannot prove vaccination.
Other exemptions from a pre-flight test: If you recently had Covid, you may present a positive PCR or Antigen test taken no less than 8 days and no more than 90 days prior to entry to Israel, in place of a negative test. If you were out of the country for less than 72 hours from departure to departure, you are exempt from the negative test as well.
Your תצהיר כניסה לישראל and Green Pass, if applicable.
Israeli citizens, permanent residents and temporary residents must present their Israeli passport or teudat zehut.
Your vaccination or recovery record, if applicable.
Insurance: Tourists must hold proof of insurance which explicitly covers Covid in Israel. This can be a letter from your insurance provider that your policy covers Covid, even when traveling abroad, or a travelers' insurance policy which specifically states that it covers Covid. Those who hold Kupat Cholim coverage may bring their card with them. Holders of A class visas are exempt from this requirement. This rule has generally not been enforced.
Upon Arrival in Israel
All passengers arriving in Israel, regardless of age, are required to take a PCR test in the airport. You will have an option to prepay at a discounted price at the end of the aforementioned Entry Form.
All arriving passengers will need to quarantine until 24 hours or receipt of negative PCR results from the airport or 24 hours, the earlier of the two.
Unvaccinated travelers who come into contact with a confirmed patient (such as on the plane) and receive an email, text or call from Misrad Habriut directing them to go into quarantine will need to enter quarantine for five days, with a negative PCR or supervised antigen on the first and fifth days.
Any traveler who tests positive upon arrival is required to enter quarantine for at least five days, with a negative home test on the fourth and fifth days, and be symptom-free for 48 hours before exiting quarantine.
Who is Considered Vaccinated/Recovered by Israel
Vaccinated: You have been fully vaccinated with a vaccine recognized by the World Health Organization, and 14 days have passed since your last vaccine. If you are 180 days past your last vaccination, a booster must be taken, and another 14 days need to pass to be considered vaccinated again. If you are 180 days past your booster, you are considered vaccinated. As of now, this extension expires on May 31, 2022.
Recovered: You have a positive PCR/NAAT Covid test from at least 8 days ago; no more than 190 days must have passed from the date of the PCR. These results must be digitally verifiable, such as in countries that are part of the EUDCC, which notably includes the UK and Switzerland, among other countries.
Recovered and Vaccinated: You have a digitally verifiable, positive PCR/NAAT Covid test, and at least one vaccination from any time, provided that 14 days have passed from the vaccination. As of now, this classification is expiring on March 31, 2022.
Some Countries Require Transfer Passengers to Meet Entry Requirements
If you are traveling via a third country, you must clarify their entry requirements. Many countries allow travelers to transfer through the country without meeting entry requirements; however, some do not.
For example, Germany requires a pre-flight test for unvaccinated passengers.This is especially applicable to those who are Israeli citizens, residents, or visa holders who are exempt from the pre-flight test for entry to Israel. Still, if they cannot provide proof of vaccination, they are required to provide a negative Covid test.
Contact your airline to clarify requirements before travel.