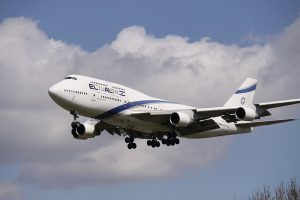 Chaim V'Chessed: Visas Extended; Israelis Permitted to Travel with Foreign Passports
For the past many months, Chaim V'Chessed has been actively engaged with the Interior Ministry regarding challenges faced by Olim and foreign residents of Israel. Two new rulings issued this week will significantly ease pressure on both of these groups, by extending most visas, and by permitting dual citizens to travel on their foreign passports.
Blanket Visa Extension
Foreign residents of Israel must hold valid visas to reside legally in Israel. However, it is exceedingly difficult to obtain appointments for visas. Foreigners whose visas expire risk losing health insurance, drivers licenses and other benefits. Some months ago, Chaim V'Chessed arrived at an arrangement with Interior Ministry officials to streamline the visa appointment process. Still, the appointment process is often fraught with difficulty.
Now, Population Authority Head, Tomer Moskowitz, has announced a new initiative to ease the visa extension process. All current visas will be extended for a period of six months from the time of their expiration. This applies to A1, A2, A3, A4, A5, B1 and B4 visas. This sweeping extension will apply automatically for those whose visas have expired recently. Chaim V'Chessed is currently advocating for the time period for this leniency to be expanded.
In light of this new development, Chaim V'Chessed is in close contact with various other government ministries which require valid visas to provide services, to appraise them of this move and to update their regulations. For example, foreigners may be eligible for Bituach Leumi, but they lose their benefits when their visas expire. Similarly, foreigners can receive Israeli drivers' licenses – but only for the duration of their visa. With this new policy, those benefits will be extended for the length of the additional extension.
Dual Citizens May Travel with Foreign Passports
In a parallel move, the Interior Ministry has enacted a considerable leniency for dual citizens living in Israel. Dual citizens are required to enter and exit Israel on their Israeli passports, despite the fact that they also hold foreign passports. It has been most difficult to obtain Israeli passport appointments in recent months, due to a post-Covid surge in requests.
To ease the difficulty in obtaining new Israeli passports, Moskowitz has announced that dual citizens will be allowed to enter and exit Israel using their foreign passports. There will be no need for a special ishur as has been required in the past. This dispensation will remain in effect until May 31, 2022.