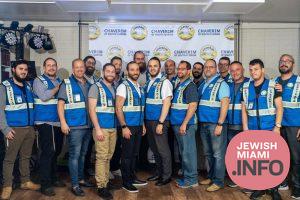 Chaverim of South Florida Hosts Volunteers for Appreciation Dinner
by JewishMiami.info
Volunteers from Chaverim of South Florida had an evening of Chizuk and Appreciation this past Thursday, February 17th, as the growing organization sped past it's first year anniversary.
Founded in the beginning of 2021, the organization now has over 40 volunteers and has responded to over 1,100 calls for help across South Florida.
Thursday night's event featured Divrei Chizuk from Rabbi Noach Peled , Rav of Mikdash Melech, and provided a platform for the volunteers to meet, speak, and gain energy to continue helping their communities.
Chaverim of South Florida covers calls for help in many areas of South Florida, including Miami Beach, Surfside, Sunny Isles, Belle Harbor, North Miami Beach, Hollywood, Hallandale Beach, Boca Raton, and Boynton Beach.
Chaverim of south Florida hotline can be reached 24 hours a day at 305-330-4030, to donate please go to www.Chaverimsf.org