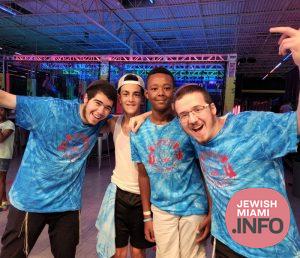 CKids Gan Israel Kicks-Off Its Third Summer With 80 Campers
Ckids Gan Israel Florida began this week, with buses rolling in filled with campers hailing from throughout the U.S, Columbia, Argentina, Costa Rica, and the Dominican Republic – some returning for the third year in a row!
From the second the campers arrived they were swept up in the excitement and minute to minute fun that CKids Gan Israel FL is known for! They were welcomed by our enthusiastic staff who made the extra effort to make sure that every single child felt welcomed and comfortable.
After a few ice breaker activities in which the boys went from strangers to brothers in a matter of minutes it was go,go,go from there!
"It was exceptional to see the boys who have returned for the third summer reach out to the new campers and welcome them with open arms," Mrs. Chaya Plotkin, Co – Director of CKids Gan Israel exclaimed. "It just goes to show how kind and inclusive our amazing group of campers are – we are looking forward to an unbelievable summer!"
An incredible welcome carnival was first on the agenda, followed by a grand game of bubble soccer, laser tag, leagues launch and a mega merch store! The campers went to bed that night thoroughly exhausted but with the biggest smiles splayed across their faces.
On day 2 began bright and early with cocoa club followed by a lively davening. The campers then took part in their very first Torah Time where they split up into groups and took part in an interactive learning session given over by our incredibly devoted, incomparable counselors.
"We couldn't have dreamed up a better staff than we have," Rabbi Levi Plotkin, Co – Director of CKids Gan Israel shared. "Each one of them is so exceptionally talented and really brings their own unique element to the camp atmosphere."
The camp then packed into buses and traveled to Urban Air, a rope course, trampoline extravaganza where the campers spent the day swinging, climbing, jumping, laughing, and of course singing!
Day three brought about the beginning of leagues. The boys split up into their teams and gave the game their all!
They then celebrated the greatest birthday batch complete with a cake deco contest and all of the boys learning about their Jewish birthday.
The campers and staff then sat down to a magical adventure that knocked their socks off, led by a master illusionist.
Friday's schedule includes Challah baking, a pre Shabbos kumzitz and a lively Shabbos meal followed by a meaningful farbrengen.
The first few days were an absolute blast, and next week is going to be even better!
Stay tuned to hear more about the 5782 CKids Gan Israel Florida adventure!
Follow us on Facebook and Instagram @ckidsganisraelflorida for live updates!