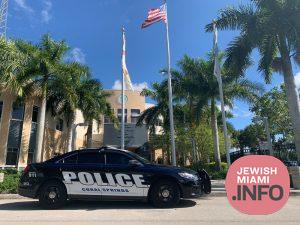 Coral Springs Announces Bradley "Brad" McKeone As New Police Chief
The City of Coral Springs has announced the selection of its seventh Chief of Police, Bradley "Brad" McKeone, who currently serves as the Deputy Chief of Police within the department.
The selection of new leadership for the department comes after the announcement of Chief Clyde Parry's plan to retire after 35 years of dedicated service to the City of Coral Springs in June 2022. Due to the talent and dedication of the current leadership in place, City Manager Frank Babinec's intent was to promote the next Chief of Police from applicants within the organization.
Of the selection, Babinec said, "Brad is 100% committed to the City of Coral Springs. His childhood, family life and career are rooted in this community and Brad's vision for the department will ensure exceptional service and safety remain a top priority. I am confident in his ability to lead, while developing the next generation of public safety professionals."
The City of Coral Springs Police Department serves approximately 134,000 residents with 225 police officers and 99 civilian members.
McKeone began his career with the Coral Springs Police Department in 1999. He served as a patrol officer and a field training officer until 2005 when he was promoted to investigator and transferred to the Vice, Intelligence and Narcotics Unit where he was assigned to the Fort Lauderdale District Office of the DEA and as a K-9 handler.
In 2009, he was promoted to sergeant, supervising on Patrol and then the Traffic Unit. In January of 2014, he was promoted to Lieutenant and in November of 2014 he was promoted to captain where he supervised the Community Services and Patrol/Operation Support components. He was promoted to deputy chief in March of 2018.
In addition, McKeone served as executive officer for the SWAT team. He has received multiple awards for Exceptional Police Initiative, Team Citations and was Officer of the Year in 2008. McKeone earned both a bachelor's degree and master's degree in Criminal Justice. McKeone is a graduate of the Southern Police Institute Command Officers Development Course Session 75 and the prestigious FBI National Academy Program, 276th Session.
McKeone will work alongside Chief Clyde Parry to implement a comprehensive transition plan which includes community engagement, addressing quality of life issues, sustainability and succession planning.
A date for the official swearing for Chief Bradley McKeone will be announced at a later date.