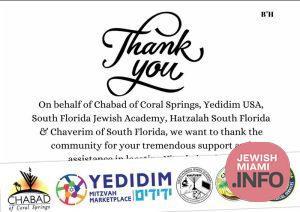 Coral Springs Says Thank You To The Volunteers
by JewishMiami.info
It has been days since the Coral Springs Jewish community sat on edge for nearly 24 hours after one of their own went missing, and the extent of the chessed that took place is astounding.
Volunteers from across South Florida flocked to the small Jewish community to assist Wednesday night as reports of the missing 14-year-old spread like wildfire on WhatsApp Chats, community boards, and word of mouth.
The hundreds of volunteers scoured the streets, parks, and waterways of Coral Springs from late Wednesday night through Thursday afternoon, when the boy was discovered in a Miami Publix. Thankfully the boy was safe and unharmed.
In a thank you message to the volunteers, the organizations who assisted in the search were named.
"On behalf of Chabad of Coral Springs, Yedidim USA, South Florida Jewish Academy, Hatzalah South Florida & Chaverim of South Florida we want to thank the community for your tremendous support and assistance in locating Yitzchak safely," they wrote.
The search had been spearheaded by the Coral Springs Police Department and the community involvement by Hatzalah of South Florida.
The outpouring of volunteers and resources was "humbling" according to the organizers.
"Drones, motorcycles, bicycles, flash lights, an ice cream truck, vests and even reward money was made immediately accessible and utilized in our search," they wrote. "Those who could not assist in person helped by sharing the information online far and wide and said tehillim for Yitzchak to be found."
Special mention goes to Coral Springs community member Nechama Gutman, whose assistance between the community and the Police Department allowed for seamless communication. A thank you also was extended to Police Liaison Mark Rosenberg whose efforts were felt throughout the search.
"From the bottom of our hearts thank you for your tremendous acts of kindness and dedication. May all of you be blessed for the countless acts of selfless chesed you have shown."