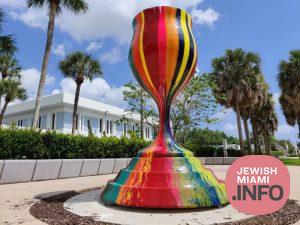 Cup Overflowing With Blessings From Artist Yitzchok Moully Joins Coral Springs Art Walk
by JewishMiami.info
The Coral Springs Art Walk, located off of N. University Drive, now has a new feature, a Cup Overflowing with Blessings.
The towering eight foot artistic masterpiece, which has become a hallmark piece for Chabad artist Yitzchak Moully, was installed in a vacant spot at the Coral Springs Art Walk this past week, culminating a drive to give meaningful Jewish artwork a place in Coral Springs.
The drive began with Coral Springs community member Mrs. Nechama Gutman.
"Two and a half years ago, on a whim, I gave Yitzchok Moully a call," Nechama wrote. "While I have a beautiful painting of his hanging in my home (a gift from my parents), Moully and I had never spoken till that day. Our city has artwork all around town. Wouldn't it be wonderful to have a piece of artwork with meaning, I asked him that day."
Phone calls were made, and Moully was placed on a notification list for the Coral Springs artwork collection. The collection is a city run program that includes permanent sites where artwork commissioned by the city are displayed.
This past December, the hoped for happened. A call to art was placed by the city of Coral Springs, and Moully submitted his work.
Soon after, the great news arrived.
The city said yes, and Yitzchok Moully's "Cup Overflowing With Blessings was headed to Coral Springs along with two other new pieces.
Moully's "Cup Overflowing With Blessings" usually begins as an elaborate blank canvas. The cup of blessings and it's multi-tiered circular pedestal is painted white, with the first step in creating the beauty of the project being when the community engages with the work, transforming the white cup to color.
The art calls for community members to select from a choice of ten colors, with each participant choosing a cup of paint. Then, each person steps up to the top of the sculpture and begins a sentence with the words "I am grateful for…", completing the sentence while pouring their cup of paint over the top of the
sculpture.
While that event did not take place for this Coral Springs masterpiece, Moully told JewishMiami.info that he plans to return on March 20th for the Coral Springs Art Festival, where community members can engage with his artwork.