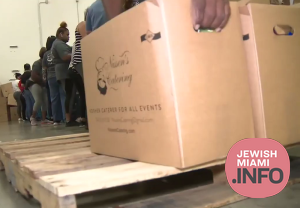 Dania Beach Kosher Food Distribution Shut Down Over Traffic and Security Issues
by JewishMiami.info
Kosher food distribution operating since June of 2020 was suddenly told to stop this week when the city decided that the distribution was causing traffic and safety concerns.
The organizers of the distribution were sent a notice saying "Your special event application will be revoked immediately due to life safety and traffic concerns expressed by the Broward Sheriff's office."
Without time to warn those who get the food, hundreds began arriving at the regular distribution site, only to receive a piece of paper saying that there would be no food.
According to Dovi Katz, the organizer of the food bank, 4,000 children and 1,500 families are fed by the bank each week, making the sudden permit revocation a near crisis.
Without recourse for now, Katz says he wants just a few weeks to find an alternative location, asking the city to reinstate the permit for just a few more weeks.
As for who is to blame for the shut down, Dania Beach points to the Broward County Sheriff, while the Sheriff points back to Dania Beach.