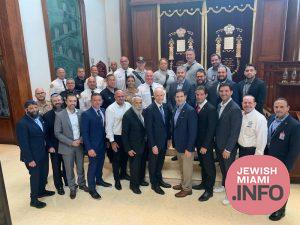 Director of Agudath Israel of Florida, Rabbi Moshe Matz, Takes Part In Surfside Memorial
As the anniversary of the tragic Surfside collapse approaches, Rabbi Moshe Matz, director of Agudath Israel of Florida, took part in a memorial event with Florida Senators Marco Rubio and Rick Scott. The event was held at The Shul of Bal Harbor and attended by community leaders, and first responders including Hatzalah, who were involved in the response to the collapse, as well as the mayors from the surrounding areas, and members of the Israeli consulate.
The senators thanked the community and the first responders for everything they did during the tragedy. Rabbi Matz addressed the group and noted, with appreciation, the support and leadership of Senators Rubio and Scott during that tragic time. He noted Senator Scott's critical work in ensuring the Israeli Search and Rescue Team was able to come help with the rescue efforts on the ground. Rabbi Matz also noted how only a few days before the collapse, the Jewish community gathered in that very location, as Governor Ron DeSantis signed a bill allowing Hatzalah to operate with lights and sirens, not knowing how important that would be in only a few days' time.
The group visited the sight of the collapse where the senators paid their respect to the victims and a prayer service was led by the chaplain for the Miami Dade Police Force.
"This was an extremely meaningful event," said Rabbi Moshe Matz. "We are very appreciative for the leadership Senator Rick Scott and Senator Marco Rubio have shown to our community through the entirety of the tragedy."