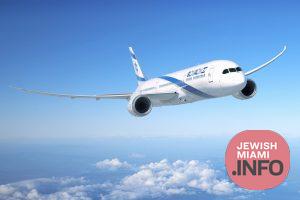 ELAL Announces Plan To Move Its US Headquarters to Miami
by JewishMiami.info
ELAL has made a momentous announcement with its plan to move is US headquarters from New York to Miami.
The news was announced as part of its first quarter earnings report where they noted that the negative influence from the move would be negligible.
The move also comes as the new controlling shareholder of the company, Kenny Rosenberg, takes the throttle in directing the difficult airline since his purchase of the company last year.
According to Globes, an Israeli business news outlet, ELAL's US headquarters has been located for New York has always been the Israeli carrier's dominant market in the US. Other popular destinations are Boston, Miami and Los Angeles, and the airline has plans to expand by adding more flights to more destinations.