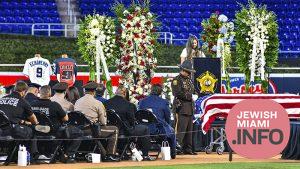 Fallen Detective Cesar "Echy" Echaverry Honored Inside LoanDepot Park, Recalled as a Brave Hero
The hearse carrying the flag-draped casket of Miami-Dade Police Department Detective Cesar "Echy" Echaverry traveled slowly through the streets of Miami, from the Vior Funeral home to the LoanDepot Park in Little Havana, a 2.5 mile journey east. The vehicle entered the baseball park through a wide tunnel under the center field bleachers, took a left turn, and followed the dirt "warning track" that outlines the field where Echy had spent so many hours watching the Miami Marlins play.
The hearse stopped near first base, and then officers pulled the casket out of the vehicle, placed it on a casket trolley, and wheeled it to second base, to a spot just in front of where his parents, siblings, and fiancée sat. They all wore baseball jerseys, with his nickname and the number "9" on the back. That was his jersey number when he played varsity baseball at John A. Ferguson High School.
As the procession for the Rendering of Honors Ceremony unfolded on Wednesday, August 24, 2022, the melancholic hum from bagpipes and a soft, rolling drum beat filled the air. And then there was a long moment of silence. Officers held their right arms steady in salute for several minutes.
Detective Echaverry was born on December 8, 1992, in Hialeah. His parents emigrated from Nicaragua. He joined the Department in April 2017. An act of cowardice took his life, but his legacy of service, his heroism, and his ultimate sacrifice will live on. His photograph will be affixed to the Hall of Honor inside the Fred Taylor Headquarters Building, the forty-fifth Miami-Dade Police Department Officer to die in the line of duty. He was a member of the Robbery Intervention Detail, a highly trained team, consisting of approximately three dozen officers, that often encounters dangerous felons and situations. The unit has been in existence for nearly 27 years.
The keynote speaker, Miami-Dade Mayor Daniella Levine Cava gave a solemn speech during the two hour ceremony. Also in attendance was Florida Governor Ron DeSantis and other elected officials and dignitaries, as well as thousands of law enforcement officers from the region and beyond.
Detective Echaverry's passion for baseball and his dedication to his job shone through. Miami-Dade Board of County Commissioners Chairman Jose "Pepe" Diaz, said, "Detective Echaverry and his unit had the watch 24/7, and now he will take the watch to a new level, he will watch from up above."
Lieutenant Ernesto S. Rodriguez, a member of the Robbery Intervention Detail, said "There's no script, no training that could prepare us for something like this." He used four words to describe his fallen brother; courageous, resilient, inspiring, and honorable. Lieutenant Rodriguez gave two details about Monday, August 15, 2022, saying it was a day off for 'Echy' but he volunteered to help on a special initiative and came into work anyway. And prior to engaging the suspect, he made sure that the public was out of harm's way.
Miami-Dade Fire Rescue Department Firefighter Leo Menses, Detective Echaverry's best friend, said he was devoted to his family and his job. "I knew him as Big Dog," he said. They bonded over their affinity for riding dirt bikes, and over daily breakfast together. They always ordered the same food, "huevos revueltos con tostado y una colada." Mr. Menses said, "I am a better man today because I knew him."
Officer Lindsey Serrano and Detective Echaverry graduated together from Basic Law Enforcement Class 117, and they remained close friends over the five years since. During the ceremony, she recalled their time at the academy, of how he once passed out during training, and how all the other trainees used that moment to poke fun at him. She also talked about how he helped lift the spirits of other trainees, inspiring them to do their best. He invited fellow trainees to his parent's house during holidays, so that they would not be alone. "Echy, you helped so many people throughout your career," Officer Serrano said.
Detective Echaverry's fiancée, Ms. Stephanie Vargas, said she first met him in 7th grade. After their first date, they were smitten with each other, and soon after resolved to spend their lives together.
A video of Detective Echaverry was shown on the large screen affixed over centerfield. It had images of him in the academy, doing push-ups, of his BLE graduation, of him sitting with his family in the bleachers of the very stadium where he was eulogized, of dinners with loved ones, of memorable childhood events like the prom and his high school graduation, and of his unit, proudly standing shoulder to shoulder.
Director Alfredo "Freddy" Ramirez III extended condolences to his family, and reminded the public of the threats that officers face virtually every day, referring to an attack on two of his officers the previous night. "He was what every parent wants their child to be, humble, good hearted, compassionate, and hard working," Director Ramirez said. "Not anyone can be a member of this unit . . ." Director Ramirez added, "To Echy's family, know that we are eternally grateful for his service, and although his life was short, it was impactful for a thousand lifetimes."
There was a "21-Gun Salute" from shallow center field, followed by an officer's rendering of "Taps." An "End-of-Watch Call" ended the ceremony, with the dispatcher saying, "Echy will be truly missed and will forever remain in our hearts.
From LoanDepot Park, Detective Echaverry was transported to the Miami Executive Airport, where his casket was lifted into a jet and flown to his parent's homeland for burial.