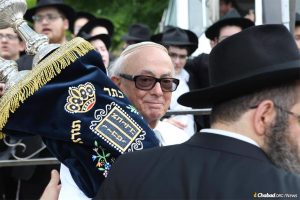 Family Carries Out Final Wish of Surfside Condo Collapse Victim
by Menachem Posner- chabad.org
During the early-morning hours of June 24, 2021, the lives of Leon (Aryeh Leib) and Christina (Rus) Oliwkowicz were cut short along with 96 others when Champlain Towers South, a 12-story beachfront condominium in Surfside, Fla., came crashing down on them as they slept.
In the hours and days that followed, the world was both united in grief for those who perished and galvanized into action for those who might be saved, as desperate search and rescue efforts began.
Many of the victims were members of the Surfside Jewish community and many of their good deeds were reported after their passing. News reports about the Oliwkowiczes focused on a Torah scroll the couple had donated to Yeshivas Ohr Eliyahu – Lubavitch Mesivta of Chicago in 2019.
What the public did not know was that Leon Oliwkowicz was actually planning to donate a second Torah to the institution, considered one of the premier yeshivahs for high-school-aged boys in the U.S.
This July 10th, his final wish will be fulfilled and a new Torah will be welcomed to the Mesivta, which has grown to encompass two study halls, each of which has regular prayer services.
"My father chose to give a Torah specifically to Mesivta because he knew that there it would be put to good use," says his daughter, Leah Fouhal, of Chicago. "He didn't want it to sit in the holy ark and be taken out just once or twice a year. In Mesivta, it will be read, celebrated, and cherished."
The Importance of Judaism to a Refugee from Europe
Leon Oliwkowicz was born in 1942 to Polish Jews frantically trying to find a safe haven. Raised in Uruguay, he relocated to Venezuela around 1980, when the country was undergoing an economic boom.
"Judaism was very important to my father," explains Fouhal. "He prayed every day, attended synagogue regularly and made sure that we children had that same appreciation for Torah."
Fouhal, who serves as office manager at Mesivta, says she and her family have benefited greatly from having Mesivta in their lives.
"My husband knew Rabbi Perlstein, dean of the Mesivta, before we met, and when we got married, I kind of married into the Mesivta family," says Fouhal. "When my father visited, he would join my husband in davening at Mesivta and soaking up the Torah-learning atmosphere."
Many in the Chicago community fondly remember the speech Oliwkowicz gave at the 2019 celebration, which he began in English before continuing in flawless Yiddish.
Early in 2021, Oliwkowicz shared his intention to donate another Torah, but fate had other plans.
In 2020, the couple came to Miami to be near their daughter who had recently given birth. When the pandemic lockdowns began a few months later, they realized that it was impractical to return to Venezuela, and they began to make arrangements to remain in Miami, choosing to live in Surfside near the Shul of Bal Harbor, a bustling Chabad community with a significant population from Latin America.
After the building collapse, Fouhal says she and her siblings felt it was fitting to use a portion of the insurance proceeds—"money we never wanted and do not appreciate getting"—to fund their father's final wish.
After the final letters of the Torah are written, the scroll will be joyously paraded from the Fouhal home to the Mesivta, where it will be used several times a week, just as Oliwkowicz wanted.
This article was reposted with permission from chabad.org