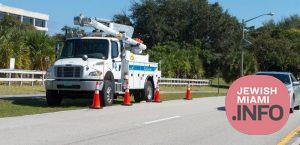 Florida Residents Can Now See Updated FPL Improvement Map
Customers can easily see reliability improvements Florida Power & Light Company has made in their neighborhoods using the updated interactive neighborhood System Improvements Map. The map is located at fplmaps.com.
Customers can simply enter their addresses to find projects completed in their area in 2021. The neighborhood-specific map, updated annually, lists projects such as strengthening power lines and poles; clearing trees and vegetation near power lines; and installing smart grid technology that helps predict and prevent power outages and restore service faster when outages occur.
The reliability of the service FPL customers receive has improved more than 40% over the last decade. The improvements are part of the significant investments FPL has made since the destructive 2004-05 hurricane seasons to enhance the reliability of service to customers during hurricanes and severe weather, as well as during day-to-day operations. FPL in 2021 received the ReliabilityOne® National Reliability Award, presented by PA Consulting, for the sixth time in seven years, awarded to the nation's most reliable electric utility.
"We know our customers rely on us every day to deliver reliable service in good weather and bad," said FPL President and CEO Eric Silagy. "Continuing to make disciplined and proven long-term investments in infrastructure and technology is one of the reasons why FPL has been the most reliable utility in Florida for the last 15 consecutive years. With this interactive tool, customers can see investments in their neighborhood firsthand as we continue building a stronger, smarter and more storm-resilient energy grid."