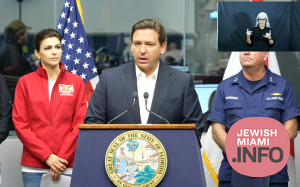 Florida Responds to Impacts from Tropical Storm Nicole
Today, Governor Ron DeSantis was at the State Emergency Operations Center to monitor and issue updates on Tropical Storm Nicole. Nicole made landfall as a Category 1 Hurricane near Vero Beach early Thursday and has weakened to a Tropical Storm as it moves through the Florida peninsula. Tropical Storm Nicole is expected to move up the west coast of Florida and through the Big Bend.
On Monday, Governor DeSantis issued Executive Order (EO) 22-253, declaring a State of Emergency for 34 counties in the potential path of Tropical Storm Nicole to encourage emergency preparations. Today, Governor DeSantis expanded the State of Emergency to all 67 counties due to potential impacts as the storm moves across the state.
As of 10:00AM EST, Tropical Storm Nicole was located 30 miles northeast of Tampa, Florida, with maximum sustained winds of 50mph and moving west-northwest at 16mph. Floridians are reminded to stay indoors and take safety precautions against Nicole's widespread impacts of coastal and river flooding, storm surge, rainfall, heavy winds, tornadoes, rip currents and beach erosion.
The following Watches and Warnings are in effect:
Tropical Storm Warning: Gadsden, Liberty, Franklin, Leon, Wakulla, Taylor, Madison, Lafayette, Hamilton, Suwanee, Columbia, Union, Baker, Dixie, Gilchrist, Levy, Alachua, Bradford, Clay, Putnam, Nassau, Duval, St. Johns, Flagler, Marion, Volusia, Brevard, Indian River, St. Lucie, Martin, Lake, Sumter, Citrus, Hernando, Pasco, Polk, Hillsborough, Pinellas, Manatee, Sarasota, Charlotte, Lee, Hendry, Glades, Highlands, Hardee, DeSoto, Broward, Palm Beach, Okeechobee, Osceola, Orange, and Seminole counties.
Storm Surge Warning: Brevard, Citrus, Clay, Dixie, Duval, Flagler, Hernando, Indian River, Jefferson, Levy, Martin, Nassau, Pasco, Putnam, St. Johns, St. Lucie, Taylor, Volusia, and Wakulla Counties.
Storm Surge Watch: Franklin County
Flood Watch: Nassau, Duval, Clay, St. Johns, Flagler, Putnam, Marion, Sumter, Volusia, Brevard, Orange, Seminole, Lake, Osceola, Indian River, Polk Hardee, DeSoto, Highlands, Okeechobee, St. Lucie, and Martin counties.
The state remains in constant communication with the National Hurricane Center, the National Weather Service and county emergency management officials of all 67 counties ahead of impacts from Tropical Storm Nicole. State preparedness and response efforts include:
Search and Rescue
There are nearly 600 National Guardsmen activated on standby to perform search and rescue once weather clears.
Seven of Florida's Urban Search and Rescue teams are on standby and ready to respond to Tropical Storm Nicole, one team remains in Lee County in response to Hurricane Ian.
Power
As of 12:00 PM, there are currently nearly 355,000 accounts without power.
For a full report on current outages, click here.
More than 17,000 linemen from utilities across the state are staged to immediately begin power restoration efforts as soon as it is safe to do so.
Florida Division of Emergency Management
At Governor DeSantis' request, FEMA has approved an Emergency Declaration for Tropical Storm Nicole. FEMA Public Assistance Category B (emergency protective measures) has been approved for Alachua, Bradford, Brevard, Broward, Charlotte, Citrus, Clay, Collier, DeSoto, Dixie, Duval, Flagler, Gilchrist, Glades, Hardee, Hendry, Hernando, Highlands, Hillsborough, Indian River, Jefferson, Lake, Lee, Levy, Manatee, Marion, Martin, Miami-Dade, Nassau, Okeechobee, Orange, Osceola, Palm Beach, Pasco, Pinellas, Polk, Putnam, Sarasota, Seminole, St. Johns, St. Lucie, Sumter, Taylor, Volusia and Wakulla counties, as well as the Miccosukee Tribe of Indians of Florida and the Seminole Tribe of Florida.
FDEM is leading the State Emergency Response Team (SERT) for the Tropical Storm Nicole response.
FDEM has activated the State Assistance Information Line (SAIL) to provide an additional resource for Floridians to receive up-to-date information regarding Tropical Storm Nicole, as well as Hurricane Ian recovery resources. Residents and visitors can call this toll-free hotline at 1-800-342-3557.
FDEM Liaisons are being deployed to Brevard, Indian River, Lake, Martin, Orange, Seminole, St. Lucie and Volusia counties at their request to provide on-site response assistance and to conduct damage assessments after the storm.
FDEM is deploying shelter support staff to address staffing needs in counties that have opened their public hurricane shelters.
FDEM has deployed 18 pallets of water to Orange County and is staging additional commodities to ensure food and water are readily available if counties request it.
Seven Urban Search and Rescue teams are prepared to deploy to impacted areas, with one USAR team assisting Southwest Florida with Hurricane Ian recovery efforts.
Infrastructure
The Florida Department of Transportation (FDOT) issued a memorandum for emergency response vehicles to bypass weigh stations in response to Tropical Storm Nicole and coordinated with Georgia and Tennessee to allow Florida-bound utility convoys to bypass their state's weigh stations.
Roadways and Bridges
258 crews are staged and ready to deploy in areas once the winds have lessened to allow safe operations to assess damage, flooding, and power outages at traffic signals as well as perform bridge inspections and cut and toss operations to clear roadways.
State Drawbridges in Brevard, Broward, Martin, Palm Beach, St. Lucie, and Volusia Counties are locked down for marine traffic. Bridges will remain open to vehicular traffic as long as weather safely permits.
All active construction sites within the projected impact areas have been secured and prepared for severe weather conditions.
Drainage structures within the projected impact areas have been cleaned and cleared of debris in preparation for the storm.
Roadway and Bridge Closures
BROWARD

N. Ocean Dr. closed in both directions at Sheridan St.
N. Ocean Dr. closed in both directions at Michigan St.
SR-A1A Southbound from Viramar St. to Auramar St. All lanes closed.
E Oakland Park Blvd. Westbound at Intracoastal Waterway. All lanes closed.

FLAGLER

S. Oceanshore Blvd./ S.R. A1A closed in both directions from S. 7th St. to S. 16th St.

MANATEE COUNTY
ORANGE

I-4 East, ramp to MM 71 (Central Florida Pkwy)
Florida's Turnpike North ramp to Exit 272 (SR-50)
Florida's Turnpike North ramp from Exit 267B (SR-50)
Florida's Turnpike North ramp from Exit 267A (SR-429)
SR-429 North ramp from Exit 24 (SR-438/Plant St.)

PALM BEACH

E Ocean Ave Both Directions at Intracoastal Waterway
S Ocean Blvd Northbound at Ibis Way

PINELLAS

Bridge on I-275 South, before MM 13. All lanes closed
Sunshine Skyway Bridge

ST.JOHNS

Bridge of Lions
Coastal Hwy both Directions at Carcaba Rd.
Coastal Hwy Both Directions from Poplar Ave. to Surfside Ave.
W King St. both Directions from S Ponce de Leon Blvd to Sebastian Harbor Dr.
May St. at Douglas Ave
Vilano Beach Bridge Both Directions at Magnolia Ave.
SR-A1A Southbound at Barrataria Dr.
Old A1A Northbound at Ocean Shore Blvd.

VOLUSIA

North Causeway Bridge
South Causeway Bridge
Veterans Memorial Bridge
Dunlawton Bridge
Seabreeze Bridge
S Oceanshore Blvd Both Directions at Clubhouse Dr.
Seaports
All ports currently have adequate fuel supplies and are staging appropriate measures to be well-positioned after the storm to quickly reinstate operations and keep fuel supplies moving.
The following seaports are CLOSED:

Port Canaveral
Port Fernandina
Port of Fort Pierce
JAXPORT
Port Miami
Port St. Pete
Airports
The following airports are CLOSED:

Daytona Beach International
Orlando International
Orlando Sanford International
Melbourne Orlando International
Northeast Florida Regional
Vero Beach Municipal