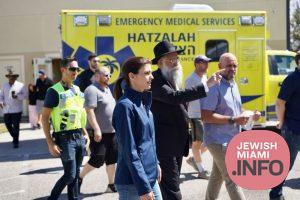 Florida's First Lady Visits Chabad of Southwest Florida To View Relief Efforts
by JewishMiami.info
Casey DeSantis, Florida's First Lady, made a stop at Chabad of Southwest Florida where she viewed the ongoing relief efforts centered in the Jewish community.
"It was inspiring to see the strength and generosity of Southwest Florida's Jewish community today at Chabad in Fort Myers where hurricane relief and preparations for Yom Kippur were both underway," the First Lady posted on Twitter. "I hope all of our Jewish friends have an easy and meaningful fast tomorrow."
Stuck in Fort Myers for the Hurricane due to the Jewish community unaware of the Rosh Hashana evacuation order, Rabbi Yitzchok Minkowicz, the Director of Chabad of Southwest Florida, hunkered down with his community in the Chabad House for the duration of the storm.
After the storm passed and the extent of the destruction became apparent, Rabbi Minkowicz threw himself into the tough task of giving relief to the battered community.
Water rescues, meal and gas deliveries, nothing short of miracles were performed at Chabad as the reeling community faced the devastation caused by the storm.
Now, days later, the efforts are still going strong.