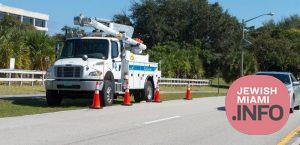 FPL Activates Emergency Response Plan for Tropical Storm Ian
As Tropical Storm Ian strengthens and potentially becomes a major hurricane, Florida Power & Light Company is preparing for a projected landfall in Florida and urging customers to prepare now for the possibility of widespread power outages.
"We recognize the uncertainty in the forecast track and projected strength of Tropical Storm Ian may make many of our customers uneasy and a bit anxious, and we want them to know that we are preparing, and we will be ready to respond," said FPL Chairman and CEO Eric Silagy. "We have activated our emergency response plan in anticipation of the storm's impact on our service area."
FPL is assembling a restoration workforce ready to respond safely and as quickly as possible. In addition to lineworkers, the restoration workforce includes tree-clearing professionals who perform the critical task of removing trees and other vegetation that blow into and fall onto power lines. It also includes drone pilots that enable the company to quickly put eyes on any damage to make sure the right crews and the right equipment are deployed to the right place.
"FPL operates tens of thousands of miles of overhead power lines surrounded by millions of trees. Storms like this are nature's way of clearing debris, and it is likely that vegetation and other debris will cause outages and restoration challenges," Silagy said.
The latest forecast from the National Hurricane Center, issued at 11 a.m., indicates continued uncertainty in the track and strength of the storm. Regardless, FPL is urging its customers to prepare for potential hurricane-force winds, heavy rain, storm surge, flooding and the threat of tornados in parts of Florida.
"While no energy grid is hurricane-proof, since the historic 2004 and 2005 hurricane seasons, FPL has made significant investments to build a stronger, smarter, more storm-resilient energy grid to deliver electricity our customers can count on in good weather and bad," said Silagy. "We also proactively clear tree branches, palm fronds and other vegetation from thousands of miles of power lines every year. These investments have benefited customers during past storms, significantly speeding restoration efforts."
Storms can change at a moment's notice and there remains uncertainty in Tropical Storm Ian's track. FPL urges customers to review their family and business emergency plans, keep a close watch on the development of the storm and follow the advice of local, state and federal elected officials. Preparation and safety tips are available at FPL.com/Storm.
The 2022 hurricane season has already severely impacted U.S. citizens. Hurricane Fiona caused massive outages after striking Puerto Rico this month. FPL's charitable arm, the NextEra Energy Foundation, is donating $25,000 to relief efforts in Puerto Rico and matching any contributions from FPL employees up to $25,000.