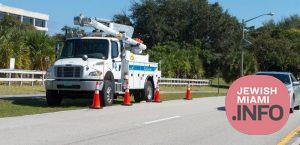 FPL Files Plan to Reduce Customer Fuel Charges by $379 Million
Florida Power & Light Company today filed a plan to reduce customer fuel charges by $379 million beginning in May to partially offset proposed bill increases to pay for last year's two hurricane restorations and high fuel costs.
The proposal filed with the Florida Public Service Commission would reduce the fuel charge on the typical 1,000-kWh residential customer bill by $4.43 a month, including taxes and fees, from May through December – reflecting a second downward revision in projected natural gas costs for 2023 after last year's high levels.
"This is good news for customers," said Armando Pimentel, president and CEO of FPL. "We recognize that sharp inflation is impacting our customers and that every dollar counts which is why we are pleased to provide relief to customers as fuel prices have moderated."
The PSC is considering proposals FPL submitted in January to increase customer bills in April to recover $1.3 billion in incremental restoration costs from Hurricanes Ian and Nicole and $2.1 billion to make up for higher-than-projected natural gas costs in 2022.
To partially offset these proposed increases, FPL's January filing also called for decreasing projected 2023 fuel charges by $1 billion due to an expected drop in natural gas prices below original projections. Today's proposal to reduce fuel charges by $379 million is in addition to the earlier $1 billion proposed reduction.
Energy independence generates customer savings
Even with the increase in natural gas prices in recent years, natural gas remains far more cost-effective than fuel oil and coal to generate electricity. FPL's decision in the early 2000s to seek energy independence and modernize its generating fleet by moving away from foreign oil and constructing ultra fuel-efficient clean energy centers and leading America's largest solar expansion has saved customers more than $14 billion while dramatically reducing carbon emissions.
In fact, FPL's solar fleet – the largest in America – doesn't use fuel at all to generate electricity, avoiding about $375 million in fuel costs in 2022 alone. FPL brought 13 solar energy centers online so far this year and will add three more solar plants in 2023 as part of plans to install 90,000 megawatts of solar energy in Florida and massively expand battery storage over the next two decades.