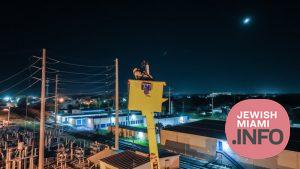 FPL Restores Service to More than Half of Customers Impacted so far by Hurricane Nicole
Florida Power & Light Company (FPL) has been working around the clock, including safely through the night in between feeder bands, to restore power to customers affected by Hurricane Nicole. The storm – which is the first hurricane since 1985 to impact Florida during the month of November – came ashore just south of Vero Beach in the early morning hours with significant winds and heavy rain.
As of 8 a.m., FPL had restored power to approximately 178,000 customers even as Nicole continues slicing through Florida. The company has dedicated approximately 13,000 men and women to the effort, including mutual assistance from 16 states.
"Nicole continues to impact the state, but our restoration is well underway," said Eric Silagy, president and CEO of FPL. "During the height of the storm in the southern part of Florida, when crews were unable to travel safely, our smart grid technology was working to restore power remotely. Now, in the areas where winds are below 35 mph, our teams are out in full force, conducting critical damage assessments and restoring power."
Nicole remains a threat across much of the state given its large size. In addition, Hurricane Ian's destructive path through Florida just six weeks ago inundated soil and left weakened trees primed to topple onto FPL power lines. Flying debris, flooding and storm surge are likely to create continued restoration challenges.
"We understand how difficult it is to be without power, and we know many of our customers are fatigued by the recent storm activity, but please know that we will not rest until power is restored to every customer," Silagy said.
Damage assessment teams, including drone teams, have begun fanning out across the portions of the state already impacted by Nicole. Quickly putting eyes on damage enables FPL to send the right crews and the right equipment to the right places to restore power safely and as quickly as possible.
In advance of the storm, FPL strategically positioned personnel and equipment around the state to begin restoring power as soon as it was safe to do so. FPL also has specialized crews working to clear downed trees, debris and other damage to allow line workers to gain access and restore service.