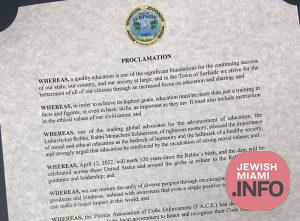 Frum Mayor of Surfside Signs Proclamation For Education and Sharing Day 2022
by JewishMiami.info
The Frum Mayor of Surfside, FL, Shlomo Danzinger, has signed a proclamation making April 12th Education and Sharing Day 2022.
The 11th day of Nissan, which this year falls out on April 12th, marks the 120th anniversary of the Lubavitcher Rebbe's birth. In honor of the Rebbe, who dedicated his life to the cause of education, the United States and local municipalities annually mark this day as "Education and Sharing Day U.S.A."
The day recognizes what the Rebbe believed to be the foundation of meaningful education: instructing our youth in the ways of morality, ethics, and values so they can fulfill a life of purpose.
The President of the United States, Joe Biden, signed a proclamation making the 12th Education and Sharing Day on Monday, with many cities, towns, and counties following suit across the country.
Shlomo Danzinger, a Lubavitcher Chossid, won the seat of Surfside Mayor this past month in an upset election.